Why a manifesto?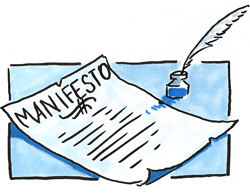 In all the speed of our modern world we're all still seekers after beauty. We can get the news anywhere, but where do we find the poetry? For me the poetry is in the process and in the end result. You've got to take a ride and make the ride enjoyable for those around you. You've got to be responsible about where you're going and how you get there.
This manifesto is about us, what we do and how we arrive.

Why do we design?
We design because we love it.
We design because design is beautiful.
We design because making something look better earns us the right to complain about things we don't like. And then change them.
We design because this is our world and if we don't like it we've nobody to blame but ourselves.
Apple computers are gorgeous; that's half the story. They also work phenomenally well, which is the other half. But were they boxed in matte black sheet metal they'd lose appeal. You could say beauty is not tangible, but anyone who's opened the box of a new shiny gadget and felt that rush knows the truth.
Design is tangible; beauty is tangible. You can't cut either of them with a knife but that's a physicist's definition of tangible and we're not interested in that here. The truth is, we all know, deep down where the real things reside, there's another universe of tangible and it sits right there in your chest.
It's the place where Christmas as a child lives and where it hurts when you lose someone. There's more reality there than in any block of concrete.
That's why we design: because it matters.
How do we design?
Very carefully. That's the truth disguised as a flippant answer.
It's the truth because good design is functional, and without the end goal and end user in mind, there can be no true function and hence no design.
We design when we know where we're going, and no sooner. There is beauty in functionality, in purpose.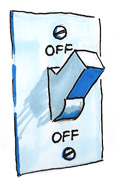 The web is about content. Anyone who comes to your site is looking for something. Our purpose as designers is to deliver this something, make it live, make it breathe and present it as it should be presented.
Or at the very least just make sure people can find it, for God's sake.
Design is the route the crow flies from dry utility to brilliant interesting function.
If it doesn't work, it isn't designed well. And if it does work but people don't want to use it…it still isn't designed well.
Good design works and people want their hands all over it.